Most of us were bullied as kids at one point or another, and most of us probably longed for the day we could exact revenge on our tormentors. Alas, that usually doesn't happen. We grow up, bulliers go one way, we go the other, and we hope karma takes its course. But one woman did get the chance to avenge her childhood bullying when she ran into a man who had relentlessly mocked her eight years earlier, when she was 12 years old.
Eight years later, when they were both 20, she ran into her erstwhile bully and he asked her out on a date. The woman, Louisa Manning, was secretly furious -- but she accepted. Because she had a plan in mind. She told BuzzFeed:
I was pretty pissed off he asked me out, to be honest. It really made me angry that now I'm attractive, he instantly wants to jump into bed with me. My gut instinct was to say no, but then I realised what a brilliant opportunity it was, and after bouncing ideas off a friend for a few hours, we came up with an idea.
Manning agreed to meet up with her date at a restaurant, but then she got there earlier and left a note with the waitress to hand to him. The note detailed the torment he had once subjected her to, like calling her "Manbeast" and making fun of her "monobrow." She then included a photo of her from that time -- a somewhat heavier version of herself.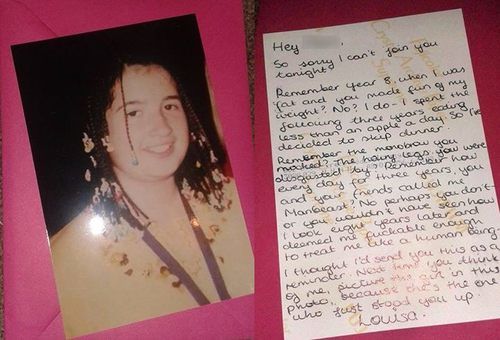 Then she posted the entire incident on Facebook and it began getting around. Eventually, she heard from the man. She says he actually apologized to her, writing:
I can't change who I was 8 years ago, and I won't insult your intelligence by pretending that it didn't happen, but I hope you believe me when I say I'm a completely different person now. I can only apologise and wish you the very best. I guess I won't hear from you again but I mean it when I say that I hope you have every success you deserve.
Aw. That was actually nice of him. I don't think any of us want to be judged at who we were at 12 years old. I know I don't!
I myself did something similar when I was 16. A boy who had relentlessly bullied me when I was 12 ended up asking me to the senior prom for some reason. Although I loathed him, he was popular, and my friend was going with his friend, so I accepted. But during the prom, I met up with a crush who wanted to hang out with me. I ended up ditching my date, the bully. At the time I felt it was poetic justice.
Of course, as adults we're supposed to grow out of this juvenile desire to seek revenge on those who've harmed us -- especially when they did it as kids.
But you can't help cheering Louisa on a little. Sure, perhaps a more mature thing to do would have been to sit down with him at the restaurant and ask him why he did what he did. At least the former bully seems to have grown up and is apologetic for his pre-teen cruelty. And Louisa got some closure.
Let this be a lesson to you, boys. Those young girls you're bullying may grow up to be ladies you want to date one day.
Have you ever confronted a bully?
---